Delicious Grand Lux Asian Nachos Copy Cat Recipe
Have your ever gone to a restaurant and ordered something that you simply fell in love with?  That's exactly what happened to my wife when she ordered the Asian Nachos, at the Grand Lux Cafe in Chicago.  This is a very unique appetizer that has a ton of different flavors.  Since then, she has tried and tweaked several Asian nacho recipes and has come up with the below recipe.  Give it a try.  We think you'll love them.  And if you're ever near a Grand Lux, give their Asian nachos a try.  You won't be disappointed.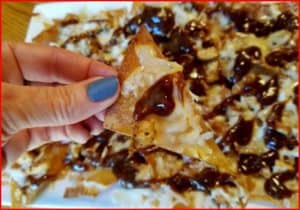 INGREDIENTS
Chicken, pre cooked, cubed
Wonton chips, fried
Sweet Asian Sauce
Wasabi Cream Sauce (recipe below)
Italian Cheese, shredded
SWEET ASIAN SAUCE
⅓  C asian sweet chili sauce
⅓ C soy sauce
1 t sesame oil
⅓  C chunky peanut butter
1 t ginger, minced
1clove garlic, minced
1 T rice wine vinegar
1 T sugar
salt and pepper to taste
Heat in saucepan and mix ingredients thoroughly. The sauce should have a sweet, spicy, peanutty taste. Consistency should be syrupy.
WONTON CHIPS
Buy wonton wrappers, cut the wrappers in half and fry them.  Let them drain on paper towels. Fry them quickly, until they are light brown.
WASABI CREAM SAUCE
4 TBSP butter, melted
8 TBSP heavy cream
2 tsp rice wine vinegar
1 TBSP wasabi paste (comes in a tube, add the most if you like wasabi kick)
1 tsp dark soy sauce
Cooking Instructions
Melt the butter in a small glass bowl in the microwave. Stir in the cream, vinegar, wasabi paste and soy sauce. Taste it, you may like to add salt and pepper, maybe a little more wasabi paste if not hot enough for you.
To Serve
Spread wonton chips on platter, top with chicken and sprinkle with shredded cheese.  Heat/melt the cheese in the oven.  Pour the sauce mixture over the chicken and cheese, immediately before serving.  Drizzle wasabi cream over that. Optional: May want to add crushed peanuts sprinkled on top.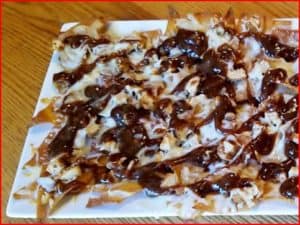 ---