Hunt Camp Bean Soup Recipe
Every November we head up to deer camp for a couple of days, in search of that big buck.  After a long day of hunting its always good to get a nice hot meal.  We each bring a pot of chili or soup for for a nights dinner.  My contribution the last couple of year has been a bean soup recipe I really like.
A good friend of mine shared a method his family uses for cooking their bean soup.  Instead of soaking the dried beans prior to cooking, you add them to the pot dry and cook them till tender.  It does increase the cooking time some, but the bean absorb all those wonderful flavors, from the other ingredients, as they're cooking.  You can use your favorite kind of bean and add other ingredients, like celery or fennel, to make this recipe your own.  I've been using a venison ham I had locally made by an Amish meat processor.  Its perfect for this soup and one of the ways I've made it my own.  So I hope you give it a try, I think you'll love it!
Ingredients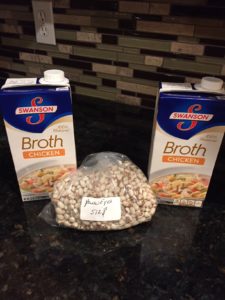 Beans, 3 lbs dried (Use your favorites. I used yellow eyes in this recipe.)
Ham, 1 lbs diced (I used venison ham in this recipe)
Carrots, 1 cup chopped
Onion, 1 medium chopped
2 – 32 oz chicken broth
3 cups of water
½ tsp garlic powder
½ tsp thyme
salt and pepper to taste
½ tsp Rosemary
Preparation
Add ham, carrots and onions to the bottom of a 6 quart pot; on medium heat. Brown up ham and begin cooking carrots and onion. Add chicken broth, 2 cups of water and dry beans to the pot and bring it to a boil. Once it begins boiling, reduce it to a simmer and cover.

Cook Time
Allow to simmer for 2-1/2 to 3 hours, stirring occasionally, until beans are tender. Add the remaining water, as the beans simmer and absorb the liquid, to maintain the consistency you desire.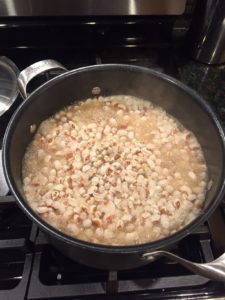 ---
---