Deep Dish Pizza
Check out this recipe for a great homemade deep dish pizza.  For a delicious homemade pizza sauce recipe, check out our post for homemade pizza.  They're an outstanding combination!

Ingredients
2 1/4 teaspoons active dry yeast
1 1/2 teaspoons white sugar
1 1/8 cups warm water – 110 to 115 degrees F (43 to 45 degrees C)
3 cups all-purpose flour
1/2 cup corn oil
1 1/2 teaspoons kosher salt
 Directions
Prep 10 m
Ready In 6 h 25 m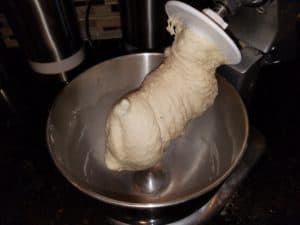 Dissolve yeast and sugar in warm water in a bowl. Let stand for 5 to 10 minutes until the yeast softens and begins to form a creamy foam.
Combine yeast mixture, flour, corn oil, and kosher salt in a

KitchenAid stand mixer

with a hook attachment; knead until dough holds together but is still slightly sticky, about 2 minutes (I do it until it pulls away from the sides of the bowl).
Form dough into a ball and transfer to a buttered bowl, turning to coat. Cover the bowl with a towel and allow the dough to rise at room temperature until double in size, 6 hours.
Punch down dough and let rest for 10 to 15 minutes. Press dough into a 10-inch deep dish pizza pan.
Add cheese, toppings, and tomatoes that you've flavored with garlic, basil, oregano, etc. Bake at 450 degrees for 30 minutes, depending on your oven. You may want to prebake the crust, if you wish, for 10-15 minutes.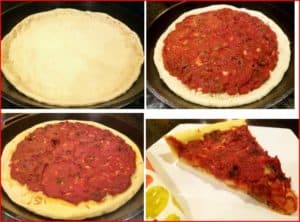 ---