DIY Home Electrical Wiring Tips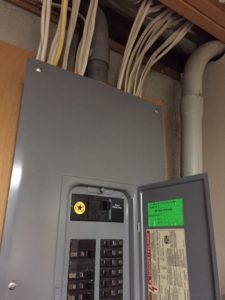 By far the most challenging home project I've ever undertaken was installing my home electrical wiring. As I mentioned on the "About Us" page, I am a controls technician, so I am familiar with wiring and circuits. I also have a very good understanding of wire current ratings and general, good wiring practices. Although I felt I had the knowledge to do the work, I was concerned about the time it would take to do it, while working full time. I also had to be sure I could meet all the electrical codes and requirements. After reviewing the quotes to have the electrical work done, my wife convinced me to go for it!
Preparing
Once I decided I was going to take on the job, I had a couple of months to do further research, before construction began. At that time I purchased several "how to" and best practice books, for residential wiring.  I did a little research and one of the higher rated "how to" books is "Wiring Complete: 3rd edition".  I also began reviewing the NEC codes (National Electrical Code). The full NEC codebook can be a bit overwhelming, for beginners (including me), because it covers all aspects of electrical codes for both residential and industrial applications. Today there are many good books designed to help homeowners understand the residential NEC codes. I highly recommend purchasing one of these books! One example of such a book is "Code Check Electrical: An Illustrated Guide to Wiring a Safe House". This book will not tell you how to wire a 3-way switch or a GFCI outlet, but it will tell you where each of these devices are required in your new home, or remodeling project.
There are other good resources to get electrical permit information, for the state of Michigan, online. I'm sure other states have similar sites, so don't be afraid to use them. Other good sources are to talk to that electrician friend or meet with your local electrical inspector.  that's a good time to discuss specific codes you may have questions about. Above all else, make sure you know and understand the electrical codes and follow them. They're there to protect you and your family!
Get Started Early
By getting started early we were able to start purchasing some of the supplies we would need, spread out over a couple months. We started buying spools of wire that we would need, along with receptacles, switches and light fixtures. This allowed us to shop for the best prices on the supplies; especially the more expensive items like electrical distribution panels, breakers and ground fault receptacles. By spreading these purchases out over time, we were able to purchase a lot of these items out of pocket.  This helped reduce the amount we had to finance. It can also allow you to spend up on some light fixtures or other appliances, without feeling to guilty.
Planning Time
The single biggest thing I did that helped in the installation was to create a diagram of where "we" wanted every light fixture, light switch, receptacle, appliance, smoke detector and electrical do-dad located in our home. This will help with a count on the materials you'll need too. Think big here folks!! Might you ever want a big screen TV hung on the wall somewhere? Be sure to put an outlet there. Would an extra outdoor receptacle be nice, over there, for entertaining? Install it now! Literally, take your wife, significant other or friend and go room by room and make note of where you want, or might want, everything. Explore how you may want to re-arrange the furniture in the future. You'll want outlets for lamps, clocks, and chargers, for a host of electronic toys, no matter how you arrange your furniture.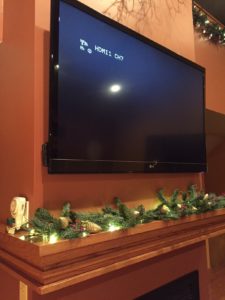 And don't forget holidays! There are lighted wreaths and garlands to be hung, and don't forget your outdoor decorations. If only Clark Griswold would have known this, it would have saved him a lot of grief! Seriously, by doing this you can eliminate, or at least significantly cut down on, the use of extension cords you'll use around the house. Extension cords can make an area look messy and they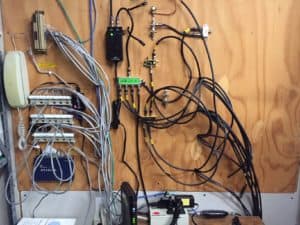 can present a safety hazard in a few different ways. They can be a tripping hazard when strung across a room or the yard. If you overload them, they can be a fire hazard and they can also represent an electrical shock hazard. Remember the poor Griswold cat?!
Ever consider "home automation"? Do your research and install what wiring you can now. Are you going to have, or need, a home office? Consider running a dedicated ethernet and/or phone line. I know we're in the age of cellular and wireless communications today, but "hardwired" connections can offer a more secure connection for some business needs. Then there's home entertainment. Flat screens TV's. Ceiling mounted projectors, with motorized screens. Surround sound audio systems. Now's the time to use your imagination and most of this can be done before you even break ground. Think ahead and think big!
Permits
Building a house requires many permits. If you choose to do the electrical work yourself, you'll be responsible for obtaining the electrical permit. A homeowner doing the electrical work on their own home is permitted to apply for the permit and do the work. Understanding the codes and having a plan will be useful when applying for the permit. Your electrical inspector should work with you on any questions you have and help you fill out the permit. This is the link to the Michigan Electrical Permit Application, so you can see what kind of information is required to get started.  By being prepared, it will help speed the process up and hopefully help build a good rapport with the inspector.
Construction Begins
With the diagram you've created for each room, you'll want to determine where to mount your distribution panel. The panel needs to be readily accessible and should be mounted where the commercial power enters your home, near the meter socket. This keeps the length of the unprotected feed conductors from the power company to a minimum. If you need to locate your distribution panel more than 30 feet away from the entry point, discuss this with your electrical inspector.  There are some restrictions and you may need to take extra precautions.  From that point, you can start planning on how you'll route the wire from each room back to the distribution panel. This can begin as early as soon as the house is roughed in.
Another very important thing to do, before you begin planning your route, is to talk with all the other "mechanical" sub-contractors. This mainly includes the HVAC (heating & cooling) and plumbing. The electrical installations can be somewhat flexible, whereas the other mechanical installations have much less flexibility. You'll have far less conflict and issues if you let the others establish there routes first. You can then supply the power that is required for their equipment and work around them, as you route wiring throughout the house.
Tools Needed
You'll be surprised to know that many of the hand tools you need to complete this job may already be in your toolbox. This includes things like a hammer, screwdrivers, utility knife, wire strippers, pliers and wire cutters. There were a couple items I added to my collection for this job, but I've used them countless times since. The first was a good quality leather tool belt. It was great for carrying most of my other hand tools, wire nuts, electrical tape, among other things. The second item was a good pair of lineman's pliers. These were perfect for cutting and twisting wires together. Other items like an electric screwdriver are great for installing receptacles and switches into boxes. There are a lot of screws and this can be a big time saver.
You'll also need a 1/2" drive electric drill and 3/4" drill bit for drilling the holes in the stud walls and floor joists. At the time I wired our house I bought a 1/2" Craftsman variable speed drill. This drill had more than enough power for the job and has been one of the best tools I ever bought. I drilled out our entire house and have used it to mix multiple batches of mortar and cement and it is still going strong. As for the drill bit, I was able to complete the job using a couple paddle/spade bits. Another good option is an auger bit. They are a little more expensive, but my understanding is they are a little more rugged. The bits will need to be short enough so the drill and bit will fit between the studs. A second, longer bit can be useful in some areas where multiple 3×4's are nailed together.
You will Need Help
Taking this job on will require enlisting some help. There will be hundreds of holes that need to be drilled in stud walls. There will be dozens of electrical boxes that have to be mounted. And there will be hundreds and hundreds of feet of wire that has to be pulled through those holes, to the boxes. Be sure to work safely while completing these tasks. I highly recommend wearing safety glasses, hearing protection and gloves, while working. Please consider reading my articles on safety and lockout – tagout when doing home projects.
Much of the beginning work does not require expert help. By following the room diagrams and wire routing, you've created, the boxes can be mount and holes drilled by anyone capable of using hand tools. You'll definitely need help pulling wire. Someone to guide and feed the wire being pulled is invaluable! On long pulls, a second person is helpful at times.
Inspection
After all, the distribution panel is installed and wired, and the boxes are mounted and the wire is pulled, you'll be ready for your first inspection. Prior to the inspection, I made a video of all the wiring throughout the house, that would be covered. I went from room to room, and narrated it, describing each circuit and how it was routed. This was a great way for me to double check my work. Some of the photos in this article are a little fuzzy, but they are actual photos I captured from this VHS video I made 18 years ago! I'm using them to illustrate a few things to consider.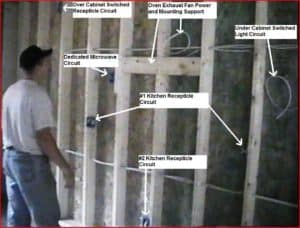 I'm not sure how important it is to keep things neat and tidy, but during my inspection, the inspector commented on this. Not only did it make me feel good, I hope it gave him a certain level of confidence that I paid attention to detail. During the inspection he'll be looking for all the code related details, so be sure to do your research and do a professional job.
After The Drywall
After the walls and ceilings are finished, it's time to make the final terminations on all the switches, receptacles, ceiling fans, dishwashers and light fixtures. There's still a lot of work, but you finally start seeing progress and know the end is near. Once the job is complete, there is such a great feeling of accomplishment.
As with any project, planning and preparation are the keys to successfully completing them. A job of this size takes a little more effort but can save you thousands of dollars. We ended up with a custom electrical installation, specific to our wants and needs, and did not have to pay extra to have it done.  With a little help, some hard work, and commitment, you can also do this! Good luck with all your future projects.
---