Our DIY Kitchen Make Over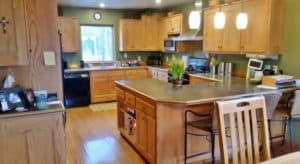 Kitchen Countertop and Tile Backsplash
After 15 years in our new home, the signs of wear and tear were starting to show on our kitchen counter-top. So my wife and I decided it was time for a kitchen makeover.  Our laminate countertop was starting to show its age, so we thought a new countertop and tile backsplash would do the trick. If you stop and think about it, the kitchen is one of the busiest rooms in your home. That's where all your meals are prepared and made. Especially the big holiday meals with family and friends. Parties and events, like graduations. Then there's fall canning season. I even get into the act making my venison sausage, jerky, and beer brewing.  So we decided it was time for a little kitchen makeover.
Countertop Options
There many different materials to choose from when considering a countertop replacement. We wanted something a little more durable than the laminate, so we started looking at all the options and narrowed it down to granite. It's durable, stain resistant and there are many beautiful patterns to choose from. Choosing the color and pattern was the toughest part of the job. Of course, you have to factor in the cost as well. Granite is definitely more expensive than laminate and the different color and pattern change the price. This part of the process is all on you! Find something you like, that is within your budget.
DIY Project?
This is a do it yourself website and we love to take on all kinds of projects. But if you've read any of our other posts, you know we say you must know your limitations. For us, install the granite countertops was definitely outside of our realm of expertise. First of all, they're very heavy! It comes in several pieces and has to be leveled and bonded together. And in our case, they needed to bore a hole through the granite for our kitchen faucet. So we left this job to the professionals!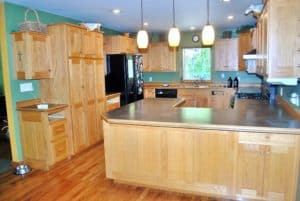 They came in and took very accurate measurements using a laser and computer. Those measurements would be fed into their granite cutting equipment back at their shop. They also checked and verify how level your existing cabinets were, that the granite will be installed on. If the cabinets are significantly out of level, it may require leveling of the cabinets. In our case, the cabinets were in good shape and only require minor leveling when the granite was installed.
Demo Day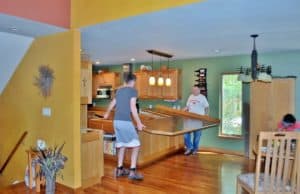 Now even though we did not take on the installation, there are things you can do that can save you money! On this project, we removed the old countertop. I used a couple of my Dewalt cordless power tools to make the job easier. Consider reading my article on cordless power tools to see how they can help you on home projects. Always be sure to wear your safety glasses when using any power tool. There were many screws that held the countertop in place. Some were in tough to reach places under the countertop. My Dewalt drill/driver worked great for getting them out.  We also needed to make a few cuts using my Dewalt reciprocating saw to get one section of the old countertop out. In the end, easily saved the installers a couple hours, which I'm sure saved us a few hundred dollars.  We probably would have leveled the cabinets, if they had needed it too.  I'm sure that would have been another big saving in time and money.
Countertop Installation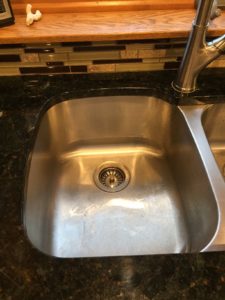 The installation went well, with no issues, and we love our granite countertop. Its durable, stain resistant and beautiful to look at. There are a couple things to watch out for. On under hung sinks, the exposed granite edge can chip if hit with something heavy, like a cast iron skillet. On the other side of the coin, if you strike a drinking glass or glass bowl on that same edge, they can easily break or chip as well. The takeaway on this is to use a little extra care when washing dishes, or using the sink, and you will be fine.
I also want to let readers know one more thing about darker colored granite. Spills wipe up easily, but they tend to show the water swirls that are left over after drying. To prevent this you need to use a clean dry towel to wipe up the swirls immediately after cleaning up the spills. They are like owning a black sports car; there's nothing more beautiful, but they take a little extra care.
Phase 2 of Countertop and Tile Backsplash Update
After the granite counter-top was installed, we decided to install a new tile backsplash. We went with a glass and stone mosaic tile with multiple colors to tie the wall color and counter-top together. We are very happy with the results. The tile can be installed right over the painted drywall with the correct preparation and using the right mastic, or a thin set mortar.
Tile Backsplash Installation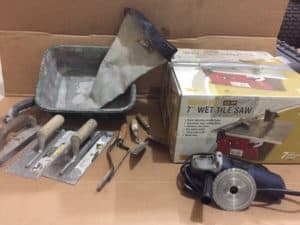 We went with the thin-set mortar because we've used it on other tile projects and had good success. The tile backsplash installations can be done using the same trowels, saws and hand tools we call out in our article about installing veneer brick and stone. You'll need to scuff the painted surface using a 120 grit sandpaper to give the mastic or mortar a better surface to adhere to. I could give step by step instruction for installing the tile using thin-set mortar, but there are so many different products and manufacturers.  Following the manufacturer's instructions for mixing and applying their product is the best way to go. It's that simple!
Installation Safety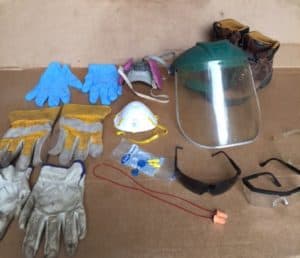 What I would like to offer you is practical ways of installing the tile safely. 99% of the time you are going to have to make some cuts when installing tile. Whether it's on an edge or around receptacles or windows. The best way to do this is with a wet tile saw. They cut the tile the cleanest, for a nice looking finish. With that said, they still produce small, flying particles and chips. This is even more noticeable when cutting the glass tile. It's minor and you still end up with a nice finished product. On a project like ours, I would set your wet saw up in a garage or outside.  They can make a bit of a mess.  When using a tile saw you do need to protect yourself. Always wear eye and hearing protection! When using the tile saw I use both safety glasses and a face shield. Please take time to read our article on using PPE for home project safety!
Finished Product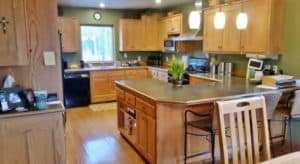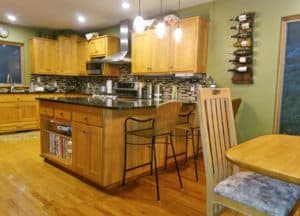 We are very happy with our new granite countertop and tile backsplash!  It gave our kitchen a fresh new look.  These types of projects can easily be done by most homeowners. To be successful all you have to do is have the right tools, following manufacturers product instructions, and work safely. You'll be proud of your accomplishments and save money in the process! Good luck with all your projects.
---