KitchenAid Stand Mixer: A Must Have For Every Kitchen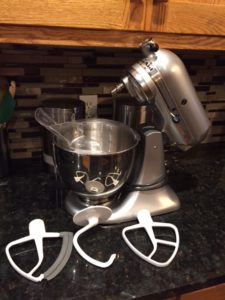 My wife loves to cook. She spends hours in the kitchen preparing and cooking her favorite recipes. She also spends a lot of time researching and tweaking recipes to make them her own. If you ask her what the most valuable appliance in her kitchen is, without hesitation, she will answer her KitchenAid Stand Mixer. Her's is the Artisan 5 quart mixer. Kitchenaid makes bigger and more powerful models, but for the average homeowner, this mixer will do everything you need to do.
KitchenAid Attachments
The KitchenAid stand mixer typically comes with three different attachments, which will handle the bulk of your basic baking and mixing needs. The first one is the beater or paddle. This attachment is good for mixing cookie dough, cake batters, and other heavier mixes. The second is the whisk attachment. This is used for making whipping cream, frosting and other lighter mixtures and batters. The third is the dough hook. This is used for mixing bread dough, pizza dough and any other heavy mixing needs. With these three attachments, you can start mixing with your KitchenAid mixer right out of the box.
There are several other mixing attachments that can be purchased along with several specialty attachments for additional food preparation. For example, my wife purchased the flex edge beater, which has a flexible edge on one side for scraping the side of the bowl. Similar to a spatula. This attachment does a better job of thoroughly mixing your ingredients.
Special Attachments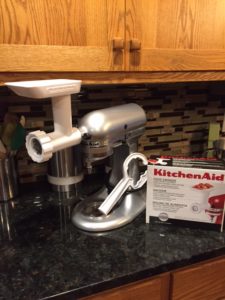 We also purchased the meat grinder for the KitchenAid stand mixer. The grind came with a fine and coarse plate and has handled everything we've used it for with ease. I use this grinder for processing my own venison and making my own venison summer sausage. Check out my article on making your own sausage and save money doing so. My wife's mother has some dietary restrictions, so we also use the grinder for grinding chicken, or turkey, to use in recipes that can be adapted for her.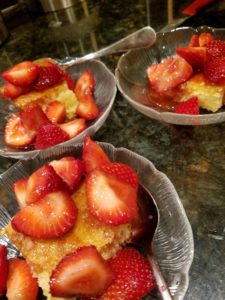 The KitchenAid mixer has many attachments that can be used with it. They include food processors, pasta cutters, corer and peeler, slicers, juicers, ice cream makers and many more. There is something for your every need.
This mixer takes a lot of the work out of mixing cookie hand bread dough. No more mixing stiff cookie or kneading bread dough by hand. Put the ingredients in the bowl and start the mixer. While the mixer is doing its job you can be doing other things. Be sure to check out some of our recipes on our "kitchen" page. Many of them we prepared using the KitchenAid mixer, like the sponge cake shown to the right, and we will be adding more in the future. If you enjoy cooking and baking, we're confident that the KitchenAid mixer will soon be one of your favorite appliances too.
---