The Best Pizza Dough and Pizza Sauce Recipe
Below are the best pizza dough and pizza sauce recipes we have ever tried.  Our entire family loves them too.  On "pizza night" we each get to choose our own toppings and put the pizza together.  This a great way to get children to help out, learn their way around the kitchen and to have some fun.  The pizza is great too!  We hope you enjoy it.
Basic Pizza Dough Recipe (2 pies)
1 ½ t dry active yeast

1 ¼ C lukewarm water
1/2 T salt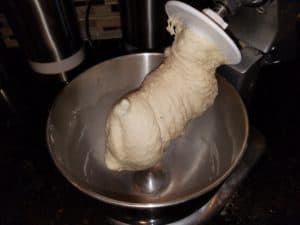 1 T sugar
1 T olive oil
3-3 ¼ C unbleached flour
You can also add flavors to the crust……pesto, garlic, basil…..
Preparation Instructions
Add dry yeast to water and allow to rest 10 minutes.  Slowly incorporate flour, sugar, and salt to the yeast mixture in KitchenAid stand mixer with a dough hook attachment.  Be sure to check out our article on the "KitchenAid Stand Mixer", for other great uses.  Next, drizzle olive oil into the flour mixture and mix on medium until ball forms.  Keep mixing until dough pulls away from the sides of the bowl (slowly add more flour or 
liquid as needed to get this result).  Continue to knead dough for 10 minutes (I occasionally pull the dough off the dough hook).  With dough attached around the dough hook, drizzle a little more olive oil into the mixer bowl and remove dough from hook.  Place dough in mixing bowl and turn over to coat dough, cover and let rise 2 hours (should double in size). Divide dough ball in half and work with rolling pin or hands and shape into two 12-14" round pies on pizza stones.  Cover dough with pizza sauce (recipe below), cheese and toppings.  
Toppings
We like mozzarella and fontina cheeses.  Some toppings we love are ham, bacon sausage, chicken sausage, pepperoni, onion, mushrooms, cranberries, artichokes, basil…..  My favorite is bacon, sausage, onion, cranberries, basil, and artichokes.  But here is where you make the pizza your own.  You are only limited by your imagination!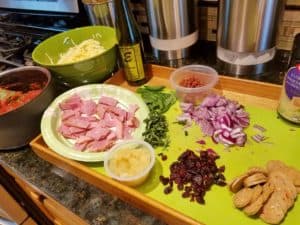 Cooking Instructions
Bake in preheated 450-degree oven for 10-12 minutes.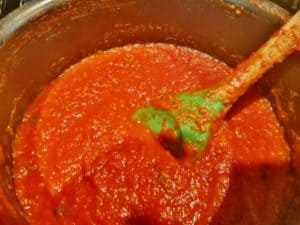 Pizza Sauce
Here is a great homemade pizza sauce to put on your pizza.  My wife attended a cooking class and one of the recipes they created was this delicious sauce.
Ingredients
28 oz can crushed tomatoes
8 oz can tomato sauce
1 T sugar
2 cloves garlic – minced
⅓-½ C red wine
2 T tomato paste
½ t basil
1 t oregano
¼ t red pepper
Salt & pepper
Cooking instructions (just that simple!)
Mix all together and cook down by ½.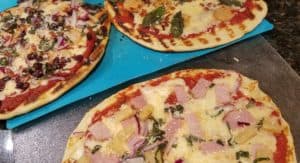 ---