Delicious And Easy To Make Sesame Chicken Recipe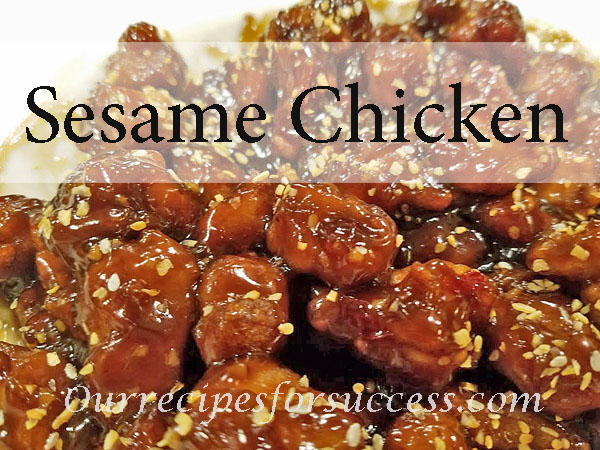 If you enjoy Chinese food, you are going to love this sesame chicken recipe.  One of our favorite restaurants to go to in Midland, Michigan is Asian Express. I order their sesame chicken 95% of the time we go!  It's sweet with a little bit of heat.  This recipe is very comparable!  Give it a try, I'm sure you won't be disappointed!
Ingredients
3 chicken breasts (boneless) – cut into 1-inch cubes
Marinade/Batter:
6 Tbl Soy Sauce
4 Tbl Water
2 tsp Toasted Sesame Oil
4 Tbl Flour
4 Tbl Cornstarch
1 Tsp Baking Powder
Mix all marinade ingredients in a bowl and add the cubed chicken.
Sauce:
3 Tbl Toasted Sesame Oil
1 Clove Garlic – minced
1 Tsp Ginger – minced
¼ C Cornstarch
2 C Chicken Broth
1 Tbl Sweet Chili Sauce
1 Tbl Honey
½ C Brown Sugar
2 Tbl Soy Sauce
2 tsp Sesame Seeds
Cooking Directions
Heat oil in a saucepan.  Add garlic and ginger, fry for 2-3 minutes.  In a bowl, add a little of the chicken broth with the cornstarch to dissolve.  Mix all the rest of the ingredients in a bowl and add to pan with sesame, garlic, and ginger. Stir over medium heat until thickened.
In a heavy pan, add enough oil to fill about ½ way.  Heat to 375 degrees.  Fry chicken pieces in small batches until golden brown.  Drain on paper towels.
To serve, place fried chicken in a dish and pour sauce over it.  Garnish with more sesame seeds and scallions.  Serve it with fried rice and enjoy!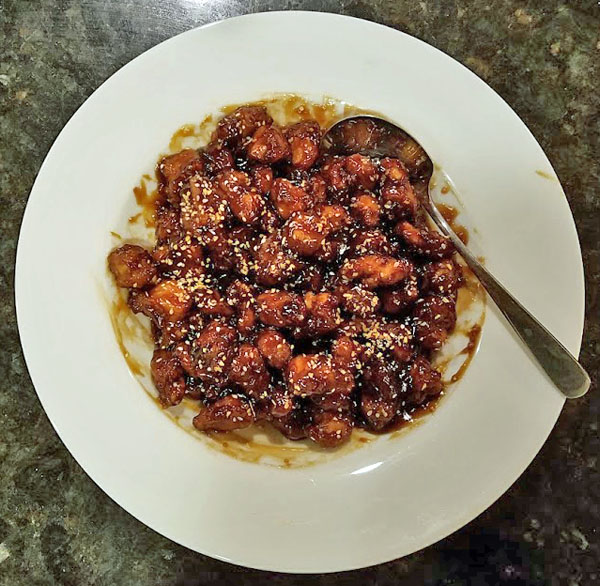 ---
---