Make Your Own Suet Plug Bird Feeder
Bird watching is a great pastime on a cold winter day. Why not stay inside, where it's nice and warm, and watch the birds. Enjoy a hot cocoa or cup of coffee and watch them come and go. It's very relaxing! What's the best way to attract birds? They're just like teenagers, feed them and they will come. I normally put out sunflower seeds and suet.  That combination seems to draw in a wide variety of birds. My favorite bird feeder is one that takes suet plugs. I'd like to share with you the plans for making your own.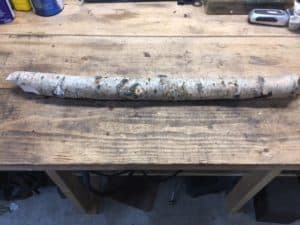 To make a suet plug bird feeder all you need is a two-foot long piece of wood, approximately three inches in diameter. With a few simple hand tools, you can transform that piece of wood into a feeder the birds will love.
Tools and Materials Needed
Saw
Mallet or hammer
Hatchet or machete (to split the top)
Screwdriver
1-1/4 wood drill (holes for suet)
1/4 drill bit (holes for perches below suet)
1/8 drill bit (pilot holes for screws)
1-1/2 drywall screws (2 required to attach the top)
2″ Steel Screw Hooks (1)
1/4″ dowel rod (5″ cut in half for perches)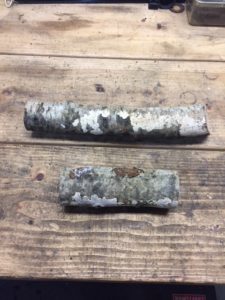 Time To Started
Begin by cutting the three in diameter piece of wood you chose into a 14″ and 8″ piece. One end of the 14″ piece should be cut at a little angle for the top. The kind of wood you use is really your preference. I've seen birch, poplar, and cedar used.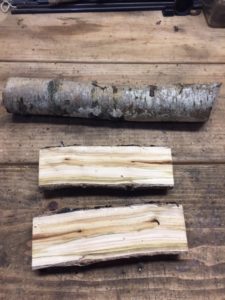 Use your hatchet or machete to split the 8″ piece of wood in half. Simply set the hatchet or machete on the center line of the wood and gently tap it with a hammer. The grain of the above mention wood types are very straight and an 8″ piece will split very easily and straight.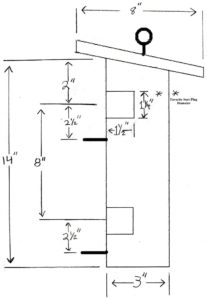 Using the dimensions from the bird feeder plans, mark where the holes are to be drilled. The angled end of the 14″ piece is the top and the high point is the side is where the holes will go.  Before drilling the holes you may want to check out my article on Tip For Drilling Holes.  An auger bit or paddle bit will work best for this application.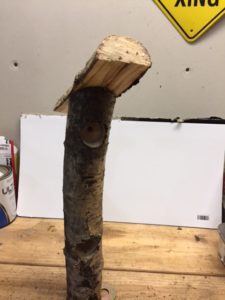 After the two 1-1/4″ suet holes and the 1/4″ perch holes are drilled, it's time to attach the top. Use the 1/8″ drill bit to drill two pilot holes in the top piece about 3/4″ apart. Attach the top piece with the two drywall screws. Now drill a third 1/8″ pilot hole between the two screws and insert the steel screw hook.
Completed Suet Plug Bird Feeder
With the top secured, all that's left to do is insert the two 1/4″ dowels in for the perches. If needed, apply a small amount of wood glue to hold the dowels in place.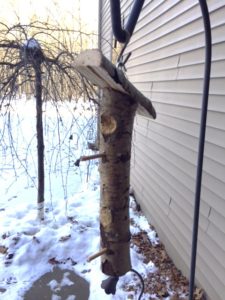 That's all there is to it! In one hour you can completely build this bird feeder. Just put some suet in it and hang it where you can watch the birds enjoy it. It will attract many different kinds of birds. Good luck with all your home projects!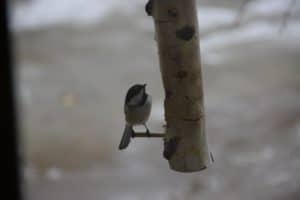 ---
---