White Chicken Lasagna with Pesto, Artichoke and Spinach
If you are looking for a little variety on an "Italian" cooking night, try this white chicken lasagna, with pesto, artichoke and spinach.  It's a delicious change of pace.  For a vegetarian version, leave the chicken out and use a vegetable broth in place of the chicken broth.  This lasagna has enough flavor, everyone will love it!
Ingredients
3 tablespoons butter
3 tablespoons olive oil
1 small onion, chopped (about 1 cup)
3 cloves garlic, minced
2 teaspoons dried basil (or 1 tablespoon fresh)
1 teaspoon salt
1/2 teaspoon pepper
6 tablespoons flour
1/3 cup milk
1/3 cup Greek yogurt
⅓ cup white wine
1 and 2/3 cup chicken broth (use vegetable broth, if vegetarian)
8 oz cream cheese
2 cup cooked chicken, chopped (rotisserie is best) – (omit if vegetarian)
1 15-ounce container ricotta cheese
1/3 cup basil pesto, homemade or store-bought
1 egg
9 no-boil lasagna noodles
1 and 1/2 cups mozzarella cheese
1 jar artichoke, drained/chopped
2-3 cups fresh spinach
3-4 tablespoons Parmesan cheese
Instructions
Preheat oven to 350 degrees F.
In a large skillet, melt butter with olive oil over medium heat. Add 1 cup onions and saute 5-8 minutes, or until the onions are soft.
Throw in 2-3 cloves of garlic and saute one more minute.
Add basil, salt, pepper, and flour. Whisk together until all the oil is absorbed.
Slowly add milk, Greek yogurt, wine, cream cheese and chicken broth. Stir to combine, whisking constantly. Go as slow as you need to make sure the liquid gets absorbed. You want to whisk out any chunks.
Cook over medium heat, stirring until the mixture is thickened slightly, just a couple minutes. Add the chicken and turn off the heat.
In a medium bowl, stir together ricotta, pesto, and 1 egg.
To Assemble
Wet the bottom of a 2 quart casserole dish with some of the white sauce. Just enough so the noodles don't stick.
Layer 3 no-boil lasagna noodles on top. Spread with 1/3 of the ricotta mixture. Top with a handful of fresh spinach. Add 1/3 of the white sauce and spread to the edges. Top with 1/3 of the mozzarella cheese.
Repeat twice more. Noodles, ricotta, spinach, white sauce, cheese.
Sprinkle the top with Parmesan cheese.
Cooking Instructions
Spray a sheet of foil with nonstick spray and cover the lasagna.
Bake at 350 for about 50 minutes, or until cooked and tender.
Remove the foil and turn up the oven temperature to broil. Broil until golden brown and bubbly, 1 to 3 minutes. Keep an eye on it!
Let stand for 10 minutes before serving. I like to serve this with some bread, a big salad, and maybe some other green vegetable.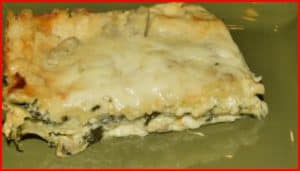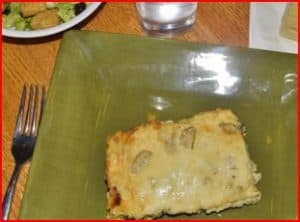 ---